Canine Massage
Effective Pain Management
"Canine Massage Significantly Reduces Pain Severity in Dogs",
Study by University of Winchester Finds
The No.1 choice for non-invasive Pain Management
the symptoms
Appear old before their time
Recurring or intermittent lameness
Dog unable to 'cock' his leg to pee
Lagging behind on a walk
Refusal to jump into the car, use stairs
Depressed or withdrawn
Refusal to play or go for walks
Twitching skin
Stiffness getting up or laying down
Change in behaviour
Canine athlete performance issues
Oh and that scratchy leg thing they do when you rub their side or belly –

 

Myofascial restriction!
The Therapy
Helps your dog to walk again in less pain – giving them back their sparkle!
Canine Massage is drug-free and non-invasive. It involves me checking your dog's muscles and soft tissue for injury and freeing tight, sore, restricted, soft tissue and muscle which can make even the simplest activities, like getting up, walking, running or toileting painful.
Often the missing jigsaw piece in canine rehabilitation, massage therapy for dogs helps them cope with the pain of conditions like osteoarthritis, hip dysplasia, cruciate injury and so many more vet diagnosed conditions.
Cost – £50
The benefits
Pain relief for dogs who can't take pain medication or NSAID's
Improves joint health and function
Reduces stiffness
Reduces inflammation
Improves range of movement
Breaks the pain cycle for dogs with arthritis, hip or elbow dysplasia, spondylosis, luxating patella, and cruciate injury
Improves performance, gait, and postural issues
Helps to reduce levels of anxiety, nervousness, and depression.
Improves the quality & longevity of life
RESULTS IN 1 – 3 TREATMENTS
Your dog will move better, will better, and be visibly happier!
Conditions Clinical Canine Massage Helps
Lameness -♦- Osteoarthritis -♦- Hip Dysplasia -♦- Elbow Dysplasia -♦- Spondylosis -♦- OCD -♦- Conservative management of Cruciate Injury & Luxating Patella (grades 1 & 2) -♦- Intervertebral Disc Disease (IVDD) -♦-Tendonitis -♦- Sciatica -♦- Soft Tissue Injury (Strains & Sprains) -♦-  Myofascial Pain (often seen as twitchy skin on the back) -♦- CDRM
Helping to Protect Our Planet.   No Need to Print
Clinical Trials - BIG NEWS!
The Results Are In!
A study by Winchester University shows a significant decrease in pain severity following canine massage therapy as delivered by Canine Massage Guild members. 
In fact, in 93% of dogs tested, their pain was significantly reduced.
As a data contributor to these ground-breaking clinical trials research into the efficacy of Canine Massage Therapy, I am delighted to report that the results are now published in Vet Record, a peer-reviewed medical journal distributed by the British Veterinary Association.  Access the Research
The next exciting phase is Double-blind trials!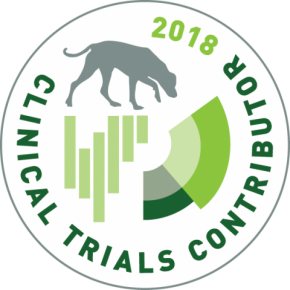 During Massage Treatments I'm Assessing For
Muscle Splinting -♦- Compensation -♦- Strains -♦- Trigger Points -♦- Myofascial Pain -♦- Restrictive Scar Tissue -♦- Hypermobility -♦- Sub Clinical Signs of Pain -♦- Pain Based Behaviours -♦- Sport / Working Dog Performance Issues
THE SPORT  & WORKING DOG
Just as in the human world a sports massage therapist keeps the athlete at top of their game.
Well, that's me for the dog world.  Improving elasticity and keeping all those gorgeous muscles sliding and gliding freely.  
Why Work With Me?
I'm Angela Day, my clinic is based in Bury St Edmunds, Suffolk.
I've completed the extensive 2-year clinical canine massage programme with the Canine Massage Therapy Centre.(approx 1200hrs of study).
Using 4 modalities of massage, what really sets this type of massage apart from others is the Lenton Method™; a set of direct myofascial release protocols designed specifically to complement the dogs' anatomy, body-mapping to address common areas of muscular injury, myofascial pain, and active trigger points.
I assess muscles from origin and insertion including fibre direction.
I'm happy to provide a full report at the end of three consecutive treatments to complement a multimodal approach to patient care.
Canine Massage Guild Member
Contributor to the worlds first Canine Massage Clinical Trials as announced by the Vettimes
Member of International Association of Animal Therapists
Fully insured by Balens, underwritten by Zurich
In clinical practice for over 6 years.
Undertake on average 50 hrs CPD p.a. (industry standard is 25hrs)
"I wouldn't hesitate for a second to take a dog of my own to Angela for treatment
(and I specialised in orthopaedic surgery for 3 years before becoming a holistic vet!). "
Dr. Vince MacNally  – BVSc VetMFHom MRCVS
"Born to Run were recommended when I was looking to help my dog recover from cruciate knee surgery.
He's had a wide range of treatments to keep him sound – physio, hydro, chiro etc,. but the massage is the one that I have found has made the most sustainable difference to his condition"
Liz and Beanie
"I run with my golden doodle Perci ( Cani Cross).  A few months ago I noticed he had a limp
I rested him but it didn't improve.
I had been to a talk Angela did at our vets so contacted her.
Perci was so at ease and you could visibly see him easing under Angela's hands.  
After just one session his limp went completely.  Perci and I cannot recommend her enough
Bex & Perci
"Jessie suddenly developed a highly fatigable gait with all four legs affected.. followed by catastrophic muscle and weight loss over her whole body…
We were seriously considering having her put to sleep!"
In combination with diagnostics at Dick White Referrals, Angela worked in a very kind, gentle, and consistent way with Jessie.
We are very pleased to report, that our little dog's health has been restored and that it is clearly sustainable.

Dr. Steve & Dr. Mandy Humphries & Jessie
got a question or want to book?
Check out the FAQ below or send us a message via the contact form.
F.A.Q.
Here is a list of the most common questions I'm asked about clinical massage.
will massage help my dog?
Massage is now clinically proven to reduce pain levels in 95% of dogs and keeps the Agility, Cani-cross, Show, Flyball, Service, Working, Gundogs, and Sled Dogs at the TOP of their game.
Massage offers significant relief in the treatment of:
-Lameness
-Arthritis
-Hip Dysplasia
-Elbow Dysplasia
-Luxating Patella Grades I & II
-Cruciate Injury (For conservative management or post-op)
-IVDD
-CDRM / DM
-Syringomyelia
-Idiopathic Tremors
-Noise Phobia
-Anxiety
Do I need to bring anything to the appointment?
I need the Vet Consent Form but there is no need to bring anything else to your appointment.  Just you and your beautiful dog!
how long is the massage session?
INITIAL CONSULTATION
The initial consultation lasts around 90 mins.  I take around half an hour to perform a gait and postural analysis.  This is simply assessing your dog on the move and in a static position.  I'll ask about your dog's medical history, lifestyle, activities environment.  Then I will massage for around 45 mins to 1 hour.
FOLLOW UP TREATMENT
These appointments are usually around an hour and are between 7 – 10 days from your initial consultation.
should I exercise my dog before the appointment?
To achieve the best and most sustainable results I recommend you do not strenuously exercise your dog either the day before, on the day, nor the day after massage.
Please ensure your dog is dry for the massage treatment because massaging over wet fur can be painful for your dog.
Can i stay with my dog during the treatment?
Unless there is a specific reason as to why you should not stay (e.g. COVID 19) I would encourage you to stay with your dog during treatment.
how much does a massage treatment cost?
All massage treatments cost £50.00
Working Ethically
I work ethically:
No block booking – this would not be fair to you as your dog may only require one or two treatments – I cannot know this until I assess your dog.
I won't treat beyond 3 sessions in one treatment programme if you are not seeing positive results.
If massage will work for your dog you WILL see positive changes within 1-3 treatments.